65 years High Speed Club - Special callsign DP65HSC
---

In 2016, the Radio Telegraphy High Speed Club (HSC) is celebrating its 65th anniversary. To mark this event, HSC was granted the special DOK number HSC65 to be used by its club stations DAØHSC, DKØHSC and DLØHSC throughout the year.

Furthermore, the special call sign DP65HSC was assigned to HSC to be activated exclusively in CW. It will also use the special DOK number HSC65. Its HSC number is 1951, which is the year when the HSC was founded. This station may be operated in 2016 by any German HSC member upon special application. QSL via bureau, DCL or LoTW.

The HSC would like to encourage our non-DL members to contact their telecommunication authorities in order to get permission to use a callsign similar to "xx65HSC". QSLs should be printed and handled by the applicant. He should be aware that HSC unfortunately won't be able to cover any expenses.

Amateurs attaining a minimum of 650 points in the HSC Marathon 2016 will be awarded a special trophy.



---
"65 Years of HSC" Special Marathon May 2016 and Special Award "WHSC65"
The HSC issues an award for which all HSC-CW-QSO are valid made during the month May 2016. Work as many HSC members and clubcalls as you can! The following rules apply:
Date: May 1st to 31st, 2016
Mode: CW (A1A)
Valid QSO: QSO with HSC members count 1 point. They count only once, regardless of band.
Club call stations: Our three club stations DLØHSC, DKØHSC and DAØHSC count 3 points each. They count only once, regardless of band.
Special stations: Anniversary calls according to xx65HSC (currently DP65HSC, LZ65HSC, SQ65HSC, PA65HSC, PB65HSC) count 5 points each. They count only once, regardless of band.
You must achieve a minimum of 65 points!
Fabian, DJ1YFK, has written a program for computing the final score by importing an ADIF file.

For application send a log excerpt (call, HSC number, date, band) to the HSC secretary via e-mail, address see legal notice. Awards in electronical format (PDF) are free of charged and will be sent via email. The fee for printed awards is 5 Euros. Payments should be accomplished through Paypal.



---
Special event stations "65 Years of HSC"
As far as we know the following stations are active: DP65HSC, LZ65HSC, SQ65HSC, PA65HSC, PB65HSC. Please drop us an e-mail if you miss your callsign!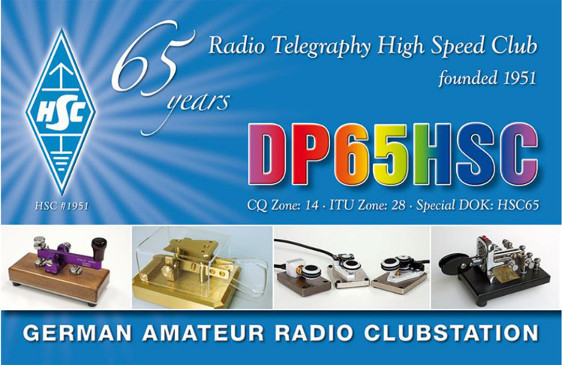 Our member Artur, SP3LPR (1481) is now QRV using the special event callsign SQ65HSC. The picture shows the front of the very nice designed QSL card.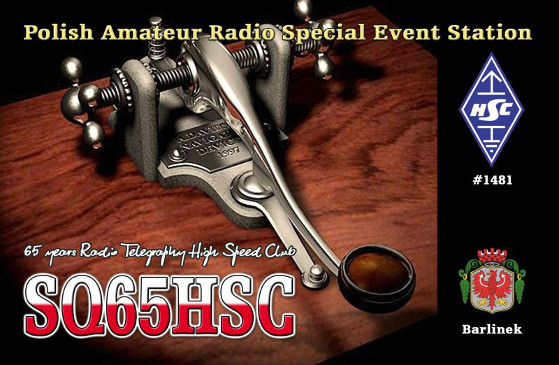 OM Jörg, PA1MUC/DL3LUM (HSC 1923) is the operator of the special station PA65HSC located in the Netherlands.